Despite people vowing to make changes in the new year, one thing I'll never change is taking a moment each week to look for the positive things happening in my life, and be grateful for all that I have.
If you've ever felt dissatisfied or lost in your life, maybe one of your resolutions should be to make your own Great List each week.  There is always something to be grateful for, even if the world seems to be against you sometimes. If you're reading this, you're alive, you have the luxury of the internet, and I'm going to go out on a limb to say that you probably have a roof over your head and clothes on your back.  Not everyone is so lucky. So take a moment today to reflect on everything you have, and let go of wanting what you do not have. Let's start this first weekend of 2013 on a positive note!
1. I only have one Great List item this week, and to me, its huge. For the last 10 years or so, I had a bookkeeping job that was fine, but boring. It paid the bills, but it gave me no real satisfaction. A few years ago I realized, my whole life was fine, but boring too. I swore to my friends every single year, "this will be my last tax season ever!", and every year another tax season rolled around, and I found myself buried in paperwork and bored out of my mind. That is, until last year. For the last two and a half years I've been making a conscious effort to create a life I really love to live. I know that nothing worth having comes easy, so I worked, and worked until the day came that I was finally able to quit that fine, but boring job. Now its January….tax season. Earlier this week my old assistant instant messaged me saying, "Agh! Its getting crazy around here! I'm so busy." And that is when I realized, holy crap, last tax season actually WAS my last tax season! YES!!!!!
I don't have it all figured out, but the relief of not having to do the endless hours of excruciatingly boring tax work is the GREATEST thing I can think of this week. My life is wide open right now. Having the time to paint, or cook, or work on my blog is priceless to me, and something I will never take for granted.
Cheers 2013! I'm looking forward to working hard this year at things I LOVE. Leave a comment below, and let me know what's made your year GREAT so far. Or, grab a button and write your own Great List. You'll love it, I promise.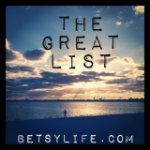 <a href="https://betsylife.com/category/the-great-list/"><img src="http://i1024.photobucket.com/albums/y301/jenpekar/Button%20pics/49b0fe2f.jpg"/>