Welcome to my first Great List written in the state of Kentucky! I'm here on my very first trip ever to Ashland to visit my grandpa, aunt, uncle and cousin. This list is actually going to be about as short as my trip, as my cousin will soon be picking me up to take me to the airport, so lets get to it!
1. I had THE BEST time with my Pa and my cousin Jacob at the retirement home yesterday. Pa showed us around, we had lunch, we did a puzzle, and I cleaned house at bingo. I'm $1.25 richer! Woo hoo! When Jacob told me later that he had never seen Pa take someone around the way he did me, and he hadn't heard him talk as much as he did in years, it made me feel so great. It seems like he's pretty happy in his apartment there, despite his complaints about the food. When you get to spend time with someone who is 93, its impossible not to take a closer look at your own life. Hearing his stories about when he and my grandma first met made me think about being 93 with The Hubs, and wondering if my memories will still be so clear then. I haven't had this kind of a good time in ages, but I really loved every second of it.
2. Being able to finally see this part of Kentucky, where my aunt, uncle and cousins have lived for over 25 years was awesome. The Hubs thought it was weird that I had family whose homes I'd never seen. When we were kids, we had two breaks from school, summer and spring break. Summer was spent at our cabin in Minnesota, and spring break was spent in Pennsylvania with my Pa and Grandma when they lived there. That was it. Every single year of my whole life. Although I came to Lexington 3 years ago for my cousin's wedding, its still over 2 hours from Ashland where he grew up, so it was great to finally get to see their house, and Mel the dog who I see many pictures of on Facebook. I loved catching up and hearing about all their kids and what they're up to. This trip was definitely worth the 12+ hours of travel, 2 flight stops, and two wild airport sprints it took me to get here.
3. Now I'm heading to the airport, but I'm not going home yet! I'm hitting up Dallas on the way to finally meet my new nephew, Paul, who was born on Thanksgiving day. I also have greatly missed his sisters and brother, Elsa, Eric and Alexandra, who I'm dying to see as well. I missed my annual trip last year, so its been since spring 2011 that I saw all these kids in person. As I am well aware, kids grow VERY quickly, so I can't wait to find out what they're all about now.
See you next week with lots of pictures of the Texas wrecking crew! To keep up with me as things happen, you can follow along on Facebook and Instagram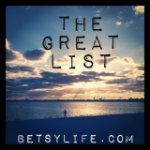 <a href="https://betsylife.com/category/the-great-list/"><img src="http://i1024.photobucket.com/albums/y301/jenpekar/Button%20pics/49b0fe2f.jpg"/>