What the?!?! A Great List on a Thursday?!?! Yes, I know its not the end of the week, buuuuuuut Betsylife will be getting a facelift this weekend, so I'm going to have to wrap my week up a little early to allow for some e-construction. Prepare yourselves for betsylife 2013…its gonna be awesome! In the meantime, enjoy this Great List
1. I did all my "tax season" work this week for my few remaining bookkeeping clients. Talk about the easiest tax season EVER! Printed a few forms and voila! Done and done. The days of being chained to my desk for three months straight are officially over. I know I've mentioned this before, but now that I'm in the thick of when things are normally crazy, its the best feeling ever to be on the other side of it all.
2. I've been sick this whole week, but woke up feeling much better today! I haven't been running in the mornings because of my congestion, and of course the day I start to feel better, its rainy. Oh well, I guess its nature's way of telling me to rest. I'll be back to my usual route next week!
3. I booked some food styling work for next week. I love getting paid to style food! What an awesome juxtaposition of having to do the tax work that I worked so hard to be able to quit, then being rewarded with work that I worked so hard to be able to do. There is truly no greater satisfaction then seeing hard work pay off.
4. My parents leave today for Orange County to visit with my brother and SIL. Its Great to get to spend time with them, and its really Great that they take care of my dogs which saves me so much time and energy each day (especially when i'm sick), but it will be nice to have our house back to ourselves. The Hubs is going to a bachelor party this weekend, so my plan is to lay in bed with the dogs and catch up on my DVR. Ahhhhh, peace.
That's it for me this week! I'll apologize in advance if the site is down or acting funky over the weekend. Trust me, better things are to come! I hope you all have a GREAT weekend. Take a moment to be grateful for all that you have. If its cold, at least you have a coat. If its raining, at least you have a house to shield you and allow you to watch the rain from the window. There's always something, you just have to look for it.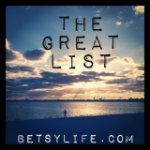 <a href="https://betsylife.com/category/the-great-list/"><img src="http://i1024.photobucket.com/albums/y301/jenpekar/Button%20pics/49b0fe2f.jpg"/>