Sometimes just the fact that it's Friday is great enough on it's own am I right? It was another scorcher this week (by San Diego standards), but I didn't melt or die, so I'm here to discuss the other positive notes that struck me this week.
1. I got to celebrate 4 years being married to The Hubs with an EXCELLENT meal of food, and some much needed one on one time with Hubs. We're really busy people and sometimes our cell phones, computers, etc. get in the way of regular ol' talking. It was a nice reminder to put down the devices and listen to each other every once in a while. The last four years have not been without challenge, but I'm better for it, and am more in love with The Hubs then ever before.
2. Tally finally got to leave the house this week. Its tough being a black dog in a heat wave. Even if I walk her just one time around the block, she's totally dragging and sucking wind. Our "walks" lately have been limited to swimming in the pool, and laying in front of the fan for hours, but this week we had a couple of cloudy days, so Tally got to go to the beach (where she got hit by a jumping fish! That's another story) and for a few walks. I think she's less depressed now.
3. My hair is finally long enough to wear in a pony tail with only one clip! I cut my hair short in March of 2011 after some prompting from my new stylist. I've had short hair before (I didn't remember not loving it), so I thought, what the heck? Well, no matter how much I convinced myself I liked it, I really didn't. Let me be more specific. I didn't like the way it looked, or the manageability of it, but I did like pushing myself out of my comfort zone, and having to face self consciousness every day. On a very small scale, it showed me what I was made of, which was very empowering. That being said, I've been growing it out (not too long. I realized I look best with a mid-length 'do) and I can finally wear it in a pony like a normal person without a million hair clips to hold all the pieces back! Just in time for the heat wave!
4. I finally finished my new office set up, and productivity has been through the roof! Its really amazing what a friendly space can do for you.
5. The heat has really helped speed up all the fermenting projects I have going on in my kitchen right now. My countertop looks a bit like a laboratory with all the jars going. My parents are going to think I'm nuts when they show up next week. More on all this later!
6. My good friend Jen told me that The Great List inspires her, and she wants to start writing one herself! I know that The Great List helps me focus my energies each week, and I'm glad its helping Jen as well. Be sure to head over to her site to read her first Great List, and leave her some comment love!
For anyone who has a blog that wants to write their own Great List, grab the button below (made by Jen! Thanks!) and list away! For anyone without a blog, just leave a comment telling me the great things that happened in your life this week. Love and happiness are meant to be shared! Have a great weekend everyone!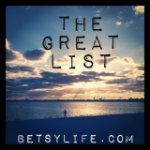 <a href="https://betsylife.com/category/the-great-list/"><img src="http://i1024.photobucket.com/albums/y301/jenpekar/Button%20pics/49b0fe2f.jpg"/>