Happy Friday friends! I hope this week wasn't too tough for you. In fact, I hope it was really great! I had one of those weeks where I can't believe it's Friday already, yet this week still seemed to drag on forever. You know what I mean? Yeah, me either. Some things are just hard to explain. Anyway, its the weekend, and that's all that matters, and I'm looking to start it off on a positive note!
1. I had the most wonderful 10 year anniversary dinner with my bestie, Val. Ten years ago this week we, rolled into San Diego with no job, and no place to live, only a desire for beach adventures. 10 years later we're still here, still together, still thriving, and we get to look back and reflect on how far we've come. I could not be more thankful to have a friend like Val, and to live in such a wonderful place like San Diego. You know how in Sex and the City Carrie always talks about her love affair with NYC? Well I feel the same way about San Diego. This city lives in my soul.
2. My parents are in town this week. My family and I don't talk much. There's no anger or animosity, we're just not the talk-on-the-phone type of people, so it's not uncommon for me to go several months without talking to anyone in my family. Its great to have my parents here and to catch up on everything that is happening with them, my brothers and all the grand kids. My favorite has been hearing about my 5 year old niece Elsa, who my mom says is excellent at drawing, and seems to have inherited the family artistic gene like me. It must be an Elizabeth thing. The other amusing thing about having my parents here is watching my dad walk aimlessly around the house listening to books on CD while carrying a discman. Sigh…..old people are hilarious.
3. The heat wave FINALLY broke! Not only that, it kind of "rained" last night! We never get real, fat water droplet, rain this time of the year, but a heavy mist is always welcome. I will miss what I call "heat clouds" shown in the picture above. Do you know what I'm talking about? Its when it gets really hot, and the sky is super blue, but off in the distance there's like one, thick, billowly cloud. I love those, but not enough to love the heat that goes with them.
4. Very randomly last night, I checked to see if JUST MAYBE there was a reservation available at my favorite restaurant, Cucina Urbana, for dinner tonight. Usually for a Friday, you have to book at least a week ahead, but sure enough, 6:15 was available! Yea!
Well, that sums up my great week I think. I hope you all take a moment today to REALLY think about the great things happening in your lives as well. Trust me, there's always something! Also, I'd love if you'd swing by my friend Jen's blog, read her Great List, grab a button and post your own! Gratitude and joy are contagious people!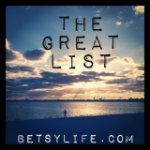 <a href="https://betsylife.com/category/the-great-list/"><img src="http://i1024.photobucket.com/albums/y301/jenpekar/Button%20pics/49b0fe2f.jpg"/>