Holiday weekend time! I hope everyone has fantastical plans for the long weekend even if that just means laying around doing nothing. I know how great a weekend like that can be. My plans include planting two tomato plants that my neighbor just gave to me in hopes of having fresh tomatoes all fall long, organizing my tweetdeck, and cooking 14lbs of pork shoulder. Ok, there will most likely be some drinks thrown in there!
To kick things off, let's talk gratitude. Even though yesterday I was talking about how I was a bit frazzled this week, I still have a lot of great things happening. Here they are!
1. So I missed work on Monday. You know what I was doing? Hiking the beautiful ocean side cliffs at Torrey Pines state park! I also watched my mom go paragliding for her 66th birthday. Not a bad way to spend a Monday.
2. Boozer the wiener dog is back! I just love this cuddly little guy. I wish he could stay forever
3. I woke up in time to see the moon set today. Very awesome! I snapped some photos, but photos never do justice to the real deal. Tonight is the blue moon so be sure to check it out if you get a chance. For those who don't know, a blue moon is when there are 2 full moons in one month. The moon this morning looked spectacularly full, so I can only imagine what tonight's moon will look like.
4. I have a wonderful client and friend who gives great advice. She's not someone I hang out with all the time, but I got to see her this week, and as usual she's is always able to say just the right thing to put life into perspective. I really needed it this week so THANK YOU Jenny!
What great things happend in your life this week? Please share! I love to hear from you all. If you have a blog, grab a button and link up. I hope you all have a wonderful and safe holiday weekend!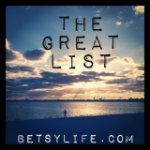 <a href="https://betsylife.com/category/the-great-list/"><img src="http://i1024.photobucket.com/albums/y301/jenpekar/Button%20pics/49b0fe2f.jpg"/>