Even though this was a short week, I'm exhausted, and totally ready for the weekend. After two weeks of being off my game, I really threw myself into getting back on track this week. It was a lot of work, but I'm definitely feel like myself again. I'm hoping that the beginning of fall inspires all of you to get moving on new projects or changes in your lives as well.
1. I did sort of a detox cleanse this week, and am feeling much better. Nothing specific, just lots of liquids (that don't contain alcohol), whole, unprocessed foods, and minimal meat products. Its really amazing to me how your diet can affect your daily life. It sounds like common sense, but when put into practice, it makes a world of difference. I'm feeling much less bloated, less sluggish, completely clear headed, and full of energy. I'm going need it as I head into my final week of the Insanity workout program!
2. I got to wish my friend Katy happy birthday for the 28th time this week for her 33rd birthday. I feel indescribably lucky to have had such a wonderful friendship for so many years. Although we live thousands of miles apart, there is no doubt in my mind that she always has my back, and will be right by my side if I ever need her. To have that level of trust and stability in your life is one of the greatest gifts ever.
3. I'm really looking forward to getting my haircut today. It's been growing seemingly forever, and its finally at a length I love. I think with a little clean up and trim, its finally going to be the hair I've been wanting for 2 years!
Nothing too exciting and eventful happening this week. I have to say, I struggled with this post because my week was so mundane. A friend had to remind me of the real purpose of The Great List. That is, that there are always things happening in your life to be grateful for. Nothing major has to occur for you to appreciate the roof over your head, the food in the fridge, and the sunshine on your face. Wise advice. Have a wonderful weekend everyone! Be sure to take time to enjoy those small things.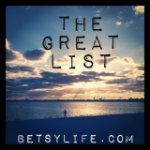 <a href="https://betsylife.com/category/the-great-list/"><img src="http://i1024.photobucket.com/albums/y301/jenpekar/Button%20pics/49b0fe2f.jpg"/>