I'm up early on this Friday morning, but I'm still dreaming about all the delicious food I ate last night. I attended a wonderful charity event in support of the Center for Community Solutions, which is an organization that helps stop sexual violence in San Diego. There was a ton of food from all the best restaurants in San Diego, an amazing silent auction, and a really fun iron chef style challenge for entertainment. Helping others is ALWAYS the greatest thing you can do, and this event put me in a great mood to reflect back on my week.
1. One of my most favorites from the event was tasting some TO DIE FOR coffee from The West Bean. Paul was super nice, and explained to me all about Japanese style drip coffee which was absolutely fascinating. I love to learn, and I love coffee more than life, so this was a great experience. Although, now the Jose's Costco coffee I'm currently drinking while typing this seems pretty lame in comparison to The West Bean's Ethiopian Amaro Gayo. Looks like I'll be doing some online coffee shopping today.
2. Tuesday I had a bad day. Anxiety got the best of me, and I started to freak out about the length of my to-do list. However, I still took my weekly trip to the farmers market with Jen and Leila, and one hug from that little munchkin (Leila,not Jen) made everything better. Kids are amazing like that. Even at her brattiest (lately she's been doing a lot of "no" and tantrums) she still has the power to make all my adult problems vanish. Thanks Leila!
3. Well, I managed to complete the to-do list. How about that? Huge sigh of relief
4. I finished the Insanity workout program this week! The sense of accomplishment I feel is incredible! Physically I feel great. I can do so many more push-ups than when I started, not to mention I annihilated my starting fit test results. I liked this program so much that I think I'm going to start over, and do it again. For some reason, Shaun T clicks with me, so why not keep on going?
I have super exciting plans this weekend which include a baby, and lots of wine! I hope you all have a wonderful weekend. Don't forget to take a second to think about, and give thanks for, the great things happening in your life. Big or small, I know there's something that made you smile this week.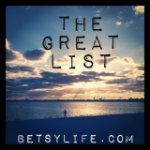 <a href="https://betsylife.com/category/the-great-list/"><img src="http://i1024.photobucket.com/albums/y301/jenpekar/Button%20pics/49b0fe2f.jpg"/>