Honestly, I feel kind of beat up by this week. There was travel which is always exhausting, a nasty spider bite that made me ill, a doggy neck wound that caused worry, and overall bad communication, stress, and anger involved. I'm sure you've all been there at some point in time. The beauty of The Great List is that I woke up today and am able to let it all go. The Hubs and I enjoyed a good laugh over a Kanye West meme and a picture of a dachshund in a sweater sleeve, and all is forgiven. We both talked about our plans for the weekend (finish the pizza puzzle! sleep!) and I know that we're heading into this weekend on a positive note.
To keep those feel good vibes flowing, let's talk about the GREAT things that happened this week. Even if it seems like it, life is never ALL doom and gloom. There's something shiny and bright buried under there too. Just take a second to look for it.
1. Despite the awesomeness that is #2, truly the greatest thing that happened to me this week was hearing The Hubs say that he had "so, SO much fun on our trip to NorCal" without any prompting from me. It can be very challenging to be married to a workaholic like The Hubs. I wish he would write his own Great List every week because more often than not, he's all consumed with numbers and deadlines, and meetings. He rarely comes up for air, but when he does actually take that break, its the best thing ever to witness. Whether he writes it down or not, I hope he takes as much pleasure in those happy moments in his life as I do. After all, what are you working so hard for if its not to enjoy your life?
2. Maxwell! Wow, our friends the Tibble's made one cute baby!  How cute is he with the little dumbbell rattle I bought him? He's very well tempered, is very huge, and has beautiful olive skin, and dark hair and eyes. I'm totally in love with him. Luckily for us, Max's first plane ride will be down to San Diego to spend Thanksgiving here. I can't wait to show him around.
3. I sent in the deposit check for our new puppy this week! OMG OMG OMG OMG I am sooooo excited. We won't be getting the little nugget until the first week in November, but I'm already freaking out (in a good way) and constantly thinking of all things puppy. She'll be here before we know it!
4. I am beyond thrilled that The Great List is catching on! First Jen, now Heather! This brings tears to my eyes. I really, really believe that if people just stopped for two seconds, and tried to look for that silver lining, even if only occasionally, they would make a huge difference in their lives and the lives of people around them. Whether you have a blog or not, TRY IT! Leave a comment here and let me know the great things that happened in your life this week. Let go of that stress and anger today. It's really not worth it.
"Let us rise up and be thankful, for if we didn't learn a lot today, at least we learned a little, and if we didn't learn a little, at least we didn't get sick, and if we got sick, at least we didn't die; so, let us all be thankful." -Author Unknown
If you'd like to write a Great List on your own blog, grab a button below. Have a great weekend everyone!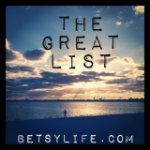 <a href="https://betsylife.com/category/the-great-list/"><img src="http://i1024.photobucket.com/albums/y301/jenpekar/Button%20pics/49b0fe2f.jpg"/>