It's Friday again. That is reason enough to be grateful in my book! Although every single weekend for the next 6 weeks is totally booked, and I probably won't get much down time, I'm super excited about everything that's going on in my life right now. I want to say a huge thank you to my awesome readers who came through with such great advice on time management. You really made me feel much calmer, and I was able to finish the week on a good note. We're all entitled to our freak outs every once in  a while right? Well, let's forget the freak out moments from this week, and talk about the good ones.
1. Boozer got a new fall sweatshirt. As if this dog couldn't get any cuter. One thing I'm learning about having a small dog around all the time, is that they truly are cold when everyone else is not. Now that the mornings and evenings are getting crisp around here, the poor buddy has been extra chilly. Sweatshirt to the rescue! The cutest thing is that the sleeves are too long for his chubby little legs so I have to roll them up! I'm thinking of cutting them off like Bill Belichick. He does love football…….
2. Finally, my new iphone 5 arrived! I'm not one of those people who just upgrades every time a new version comes out. I've been using my trusty iphone 4 for about two years, and maybe a month ago I dropped it and shattered the screen. The Hubs put a, huge, obnoxious, Otter box on it to hold it together, and I've been the subject of ridicule ever since. I looked like a construction worker from the 90's or something. Especially embarrassing for a blogger who is constantly taking cell phone pics. Anyway, I'm super grateful to be back to a sleek, slim, modern day phone.
3. My brother and sister in law made it to California! They've been talking about moving west for YEARS, and they finally took the plunge. They arrived in Irvine on Wednesday, and I think Matt starts work on Monday. The Hubs and I are driving up there tomorrow to check out their new place and welcome them to the left coast.
4. I got to spend some real time with The Hubs this week. We had an awesome dinner at Cafe Japengo on Monday, and then watched Survivor together last night. I know that probably doesn't seem like a lot to most people, but anytime we spend together where our computers are not on is awesome in my book. Work is always on both of our minds, and taking a few hours each week to let it go, is a blessing for us both.
I hope you all have a wonderful weekend! I'm looking forward to Irvine then some delicious football food on Sunday. See you all next week when I kick off FUN MONTH! (October is my birthday month, which I refer to as fun month) I have some really great things in store for you so be sure to check it out!
If you'd like to write your own Great List, grab a button below!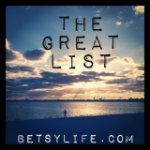 <a href="https://betsylife.com/category/the-great-list/"><img src="http://i1024.photobucket.com/albums/y301/jenpekar/Button%20pics/49b0fe2f.jpg"/>