This week was pretty intense for me. I worked a lot of strange hours that kind of messed with my sleep schedule, but it was all worth it now that I'm enjoying the beautiful ocean right outside the door of our bachelorette beach rental! Three cheers for long weekends! Let's get this Great List ball rolling
1. Let's state the obvious. Jenny's here! My high school bestie is getting married in one month and she's here, in town, with me and all her closest friends to celebrate her final days of singledom. Getting day drunk and enjoying awesome beach weather is always fun, but the very best part about it is just spending time with Jenny, and seeing her so happy for her life ahead. I love her man, Frank, and I am overjoyed that they found each other! I will DEFINITELY drink to that!
2. Despite the strange hours at work, I completed a task I have never done before, and it turned out to be a great learning experience. Any time I can turn work (blah)  into something positive (yay) its a great thing.
3. I got such great feedback and participation from my first of FIVE giveaways this month. Thank you to everyone who played, and welcome to new followers and friends. For those who don't know, every Friday here on Betsylife, I reflect on the great things that happened throughout the week. Weekends are precious, and shouldn't be wasted on negative thoughts, so I try to let all the bad stuff go, and start the weekends with gratitude instead. With that being said, let's start one lucky winner's weekend off right! The winner of the full set of Gourmet Garden Herbs and Spices is…………….
 JULIE SCOTT LAWS!!!!
Thanks for all who played. Be sure to tune in on Monday for a chance to win another awesome prize! If you'd like to participate in writing your own Friday Great List, grab a button below! Have an excellent weekend everyone!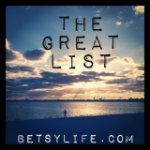 <a href="https://betsylife.com/category/the-great-list/"><img src="http://i1024.photobucket.com/albums/y301/jenpekar/Button%20pics/49b0fe2f.jpg"/>