It's the first Friday of fall! (at least in my world). Despite the 3 day hangover, this week was actually really great. Fun Month 2012 has yet to disappoint, and I just can't wait to see what else it has in store for me. Let's get this awesome ball rolling!
1. We're having a boy!!! Ok, by we I mean Jen. Leila is going to have a little brother in the spring!  Jen was preggo simultaneously with her bestie Amy last time around (both had girls). Sure enough, Amy is preggo again too, and found out she's having a boy about a week ago. As soon as I heard that, I knew Jen would also have a boy. Those two share some kind of weird cosmic bond.  How GREAT for them both that they can share these experiences together.  Let the name texting begin! So far I like Evan and Cameron. We'll see what Jen and Jeff decide!
2. It rained for the first time in 182 days or something like that this week. THANK YOU mother nature for holding it in until after the bachelorette party last weekend. Its been perfect sleeping AND working out temperature which is just what I needed to recover from the party. The rain definitely is getting me in the fall spirit, and you better believe there will be some pumpkin themed baking happening here this weekend.
3. This week I got to spend time with and old and dear friend, some family, and some wonderful and interesting ladies that I don't see often enough. I mean, can Fun Month get any better? Oh wait, I also got a delivery of champagne this week! Yes!!
4. It rained all night long and into this morning, but the clouds just parted, and the sun came out (rainbow in tow) just in time for me to go for a morning jog and get some Starbucks. Enough of this blog writing! Let's get this day started off right!
5. Don't worry, I didn't forget about the Wholly Guacamole giveaway. The winner is……..
SKIPPY HAHA!!!!!!
Be sure to tune in on Monday for another awesome Fun Month giveaway! Have an incredible weekend!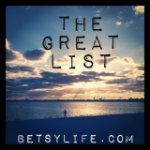 <a href="https://betsylife.com/category/the-great-list/"><img src="http://i1024.photobucket.com/albums/y301/jenpekar/Button%20pics/49b0fe2f.jpg"/>