Friday's are for gratitude here on Betsylife. I have wonderful loyal readers who check in with my Great List every Friday, but for those who are new I'll give you the run down. I like to take a moment on Friday's to reflect on the Great things that happened throughout my week in order to start the weekend on a positive note. Sometimes finding the Great things is difficult. We've all had crappy weeks, but I know there is always something to be grateful for. Lucky me, this week was a big time DOOZY!!
1. Well, the secret's out. It's a GIRL! We welcomed home our new baby girl, Olive, last night. She's 10 weeks old, and the perfect mini version of Tally. Tally was thrilled last night as they chased each other around the house and wrestled for a long time. However, the joy turned to growls today as Tally got minimal sleep (as did the rest of us), but I'm sure they'll be great friends in no time. She's proved to be a rascal as she escaped the travel bag on the plane and peed under the seat. Whoops! No one can stay mad at a puppy. I'll be documenting my puppy rearing adventures on Facebook, Twitter and Instagram if you want to follow along.
2. I am totally geeking out over the fact that I am the featured blogger in this month's issue of Cooking Light magazine! I feel so honored not only because its my favorite magazine, and the only one I've subscribed to for years, but also because it's their 25th anniversary issue which I'm overjoyed to celebrate with them. Until now, my claim to fame was that my picture was on the cover of the Tower News (a VERY small town newspaper in northern Minnesota) when I was about 5 getting mail from the mailboat. This is a bit more exciting, although that newspaper photo was pretty cute.
3. I got to eat dinner with Jen, the editor of  Pimlico magazine, last night! I've been a contributor for Pimlico for their 2 inaugural issues (holiday issue coming out soon!) and Jen has been super awesome to work with. The only thing is, she's in Ohio so we've never met in person…until yesterday. We have so much in common, and it was a joy to spend the evening with her. I love when internet meets real life!
4. Two great blog features went down this week. My Sriracha popcorn was featured over at Around My Family Table (Wendy is super awesome, you should definitely be reading her blog) and my 13 Bean Cassoulet  was featured over on Bob's Red Mill site (an amazing brand with fantastic products) Partnerships like these have been wonderful, and I'm loving this new collaborative phase my blog is in right now.
Speaking of collaborations, of course I can't forget the WINNER of the Rais Case tote  from this week's giveaway……
Kristen Bouchard!!!
Congrats Kristin! You're gonna love this. Thank you so much for playing.
Next week is my actual birthday week and I'll be back again with a new fantastical giveaway! I cannot thank you, my readers, enough for your love and support. Your encouragement means everything to me, and a giveaway a week this month is truly the LEAST I can do to say thanks.
I hope you all have a wonderful weekend! I'm sure mine will be spent chasing a wiggly puppy around, and to be honest, I can't think of anything better.
If you'd like to write your own Great List, grab a button below and join the party! Happiness never decreases by being shared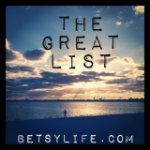 <a href="https://betsylife.com/category/the-great-list/"><img src="http://i1024.photobucket.com/albums/y301/jenpekar/Button%20pics/49b0fe2f.jpg"/>