Happy Friday friends! Since I've been on constant puppy watch for the last week, it almost doesn't seem like the weekend is here since my duties are never ending. I don't mind though. So far, Olive has been a joy, and I'm happy to watch her flop around the house all day. Let's talk gratitude shall we? 
1. The most obvious great thing that happened this week was my birthday! I got wonderful gifts from my thoughtful friends and family. Jen made me my favorite white chocolate coconut cookies, we ate great food, and drank champagne! It doesn't get much greater than that.
2. I'm starting to feel my age I think. Maybe its just the puppy wearing me out, but I've been feeling exhausted. The great part is that last night I went to bed at 8pm and slept until 6am! Now I feel great, and ready for whatever this puppy brings my way.
3. Other great puppy accomplishments of the week: Olive walked the entire 2 miles+ to the farmers market on Tuesday. I'm so grateful she's good on a leash already. Also, she has not chewed up a single thing except appropriate toys so far. Lastly, I've dipped her in the pool a few times, and after watching Tally and our neighbors dog swim, she seems like she's ready to jump in for herself….maybe she'll do it this weekend! (fingers crossed)
4. I baked an apple pie yesterday. I'm getting into the fall spirit little by little and it's kind of nice. I plan to buy our pumpkins today and hopefully carve them on Sunday. I'm still dreading daylight savings time, but I'm loving the gorgeous sunsets and cool breezes. Yay fall!
Alright, I know this post was a little puppy-centric, but that's what I'm dealing with these days so bear with me. I'd love to hear what's great in your life this week. Leave a comment below so I can live a non-puppy life vicariously through y'all! Lastly, I can't forget the winner of this week's The West Bean giveaway! Congrats to
MANDA OVERTURF SHANK!!
Thanks for playing! Tune in on Monday for my final giveaway of the month. Trust me, its awesome. If you'd like to write your own Great List, grab the button below and link up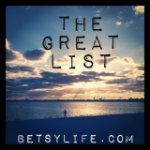 <a href="https://betsylife.com/category/the-great-list/"><img src="http://i1024.photobucket.com/albums/y301/jenpekar/Button%20pics/49b0fe2f.jpg"/>