Fun Month is over. I'm sad. It was really, really fun! Now we're in the lull before Thanksgiving, and I think I'm going to take a little break to rejuvenate myself. I'll be away from my blog all next week, but don't fret! I'll still be posting in all my other spaces: Facebook, Twitter, Pinterest and Instagram. The holidays are pretty major for food bloggers, and I need a week to psyche myself up for all the festivities. In the meantime, let's reflect on how awesome the final days of Fun Month were!
1. The greatest thing happening right now is that I'm currently in Florida ready to witness my most wonderful high school friend, Jenny, marry her perfect match, Frank! (As I like to call them, Frenny). I could not be happier for these two. I'm pretty sure I'm going to cry tears of joy….heck, I cry at every wedding. Even TV weddings. I wish you both years and years of happiness. Bonus: weddings are sooooooo fun! Can't wait to dance the night away tomorrow night, and catch up with all my new bachelorette party friends!
2. Soooooo, I have the best puppy in the world. So far, Olive is excelling at leash walking, and riding in the car. She is above average at knowing her name, sitting, and running to the door when she needs to go outside. This week marked her first day with no accidents in the house! Yeah! Pretty soon she'll be running for president.
3. I loved seeing all the kids in their Halloween costumes! Not just all the cuties that came to my door, but the ones on Facebook, and the pics that were texted to me by friends and family. Hearing Leila say, "twick or tweet" just melted my heart.
4. I had the most incredible day at the PMA Fresh Summit trade show last weekend. It was truly an inspiration to hear people talk about food so passionately. I'll be doing a whole recap post soon, but lets just say it was beyond amazing. Well worth a weekend away from home.
5. Despite the dryness, we had beautiful weather week. High 70s and sunny…SoCal perfection. I love these little reminders of why living here is the best
That's it for me this week! Oh wait…can't forget to announce the winner of the RedStar Ink giveaway this week! Drumroll…….
Ashley Garrett Fitting
Congrats! Thank you all for playing this entire month. My readers are the absolute best. See you all after my break. I hope you had a great FUN MONTH and would love to hear about it! Leave a comment below and tell me what Great things are going on in your life this week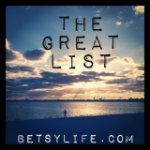 <a href="https://betsylife.com/category/the-great-list/"><img src="http://i1024.photobucket.com/albums/y301/jenpekar/Button%20pics/49b0fe2f.jpg"/>