Adios November! You've been ok, but the closer we get to the end of the year, the closer we get to summer being back, so I'm fine with letting you go. In addition to the month ending, there were lots of other shiny spots in my life this week. The dentist tried to bring me down, but even they couldn't derail my positivity train. Ok, to be honest, I had a minor nervous breakdown on Tuesday, but I'm going to let that go, and focus on the joyful moments instead. That's what The Great List is all about!
1. I had an amazing restaurant experience on Tuesday with my bestie. We checked out Monello  in little Italy. I loved the food, and the service was superb, but the thing I liked the most was by far the vermouth! Right, I said vermouth. I didn't realize I would love the spicy, aromatic, ultra flavorful drink so much. I need to procure a bottle of the stuff for the holidays. Maybe I'll go back and keep ordering drinks and quietly pour them into a flask to take home. Big thanks to Jen, the mixologist for teaching us all about vermouth! Extra bonus: I ran into some friends I hadn't seen in a while, and met some new, really interesting people!
2. Wednesday I made some appetizers for my Creative Connection group. Can I just say again how much I love these ladies? Often I'm feeling tired, stressed, and over extended when our meetings come up. I think, "you know, I'm just going to skip this one. I don't have time.", but I drag myself and end up being so thankful that I did! It's always fun, and the women who are part of the group are seriously talented and amazing. Its like a breath of fresh air to be in such a supportive, creative environment.
3. The Hubs landed one of the biggest deals of his career this week. I'm not sure what that will do for his already insane workload, but the accomplishment is huge! We celebrated with a fancy steak and scallop dinner last night. We even drank the "good wine"
4. I somehow managed to finish most of my Christmas shopping. I haven't been too inspired this holiday season, but a few hours of internet surfing, and a trip to my favorite kid's store, So Childish,  took care of my pretty long list. I still need to find something for The Hubs for his upcoming December birthday. If you have any suggestions on what to get a 33 year old tech nerd, video game loving, fairly fashionable, handy, sports loving, workout fanatic man, please let me know.
5. I'm babysitting my homie Leila today! Can't wait to go "shopping" 500 times.  Ahhhh, life with a 2 year old.
Wishing you all a happy, warm, cozy, joyful weekend! Leave a comment and let me know what GREAT things you have going on!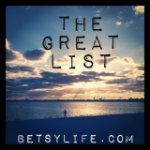 <a href="https://betsylife.com/category/the-great-list/"><img src="http://i1024.photobucket.com/albums/y301/jenpekar/Button%20pics/49b0fe2f.jpg"/>