One week closer to the end of the year! Forget Christmas, I'm most looking forward to the proverbial clean slate in the new year. There's something about that 01.01 date that is just so promising and hopeful. Until then, we'll just have to focus on the present moment, and all the things that were GREAT this week! To be honest, my exclamation point use has been at an all time low lately, but there's always something to be happy about if you look hard enough for it.
1. The weather has been really beautiful lately. Warm, sunny, and breezy. Our heat has been OFF and our windows have been open. Seeing as I have to walk a puppy miles a day to keep her energy levels in check, this has really worked out for me. Perhaps we won't have any winter at all this year. That would be just fine!
2. When you're feeling low, you can always count on your bestie to know exactly what you need. Thanks for this Val! It really, really helped
All I Want for Christmas
3. I finally made a decent curry. It was super spicy, and The Hubs loved it! Recipe to come next week.
4. Boozer the weenie dog is back! I just love that little guy. The last time he saw Olive, they were about the same size. Now Olive can totally pummel him (with love of course). I don't think he's too thrilled about being her new play thing, but I'm sure they'll be getting along in no time!
I hope you all had GREAT weeks as well. Leave a comment and let me know what's going on with you and your family this holiday season!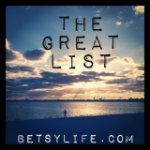 <a href="https://betsylife.com/category/the-great-list/"><img src="http://i1024.photobucket.com/albums/y301/jenpekar/Button%20pics/49b0fe2f.jpg"/>