Since when is holiday cheer so exhausting? I had a fun-filled week that isn't even over yet, but I can't help looking forward to some downtime starting late next week. I'm dreaming of a day when The Hubs and I have absolutely nothing to do! Hopefully you all have  your holiday shopping done and are winding down for a few extra days off yourselves. Let's talk about all the GREAT stuff that's been wearing me out
1. I'm hyperventilating with excitement over Betsylife stuff happening for next year already. I had the BEST meeting this week which really got my wheels turning. I'm beyond stoked for bigger and better things in the new year.
2. I did a little presentation at West Elm last night about easy holiday entertaining. I love working with the crew at West Elm. They are so fun and creative, and its a really inspiring environment. The rain scared away the crowds, but the best part was that two unexpected friends showed up to support me, which was the best feeling ever! Thanks Katie and Jenny ! You really made my day.
3. I FINALLY took my car in to get new tires and brakes this week; a task that has been shoved to the back burner for much too long. Well, the universe is on my side because the very next day it poured rain! When you live in a place that averages less than 12 inches of rain a year, you don't really care if your tires are bald. Thankfully, old Senty got her new shoes just in time. Much to The Hubs chagrin, the guy at the repair shop said she should easily last another 10 years now!
4. My neighbor had Olive over for a play date with her dog, and when I went to pick her up she told me how impressed she was with Olive's obedience. After my post yesterday about the joys of puppy rearing, this was a very excellent and meaningful compliment.
5. Parties! This week I had holiday parties number 4, 5, and 6 of the season as well as a dinner with a friend. Food, drinks, and great company….that's what life is all about. Two more next week as well as a birthday for a certain Hubs, then time to veg out for a week or so.
See?! Exhausting right? What GREAT things happened in your life this week? Friday's (well, everyday) is for gratitude so let's let go of the things bringing you down and focus on the things that lift you up! There's always something, no matter how small. You just have to look for it. Have a great weekend!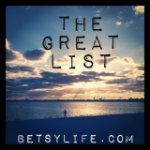 <a href="https://betsylife.com/category/the-great-list/"><img src="http://i1024.photobucket.com/albums/y301/jenpekar/Button%20pics/49b0fe2f.jpg"/>