Hey! We made it! No end of the world for this gal. Although, I've got to admit, if it had ended, I would have been ok with it since my life has been pretty great so far. Would you agree? Do you feel satisfied with your life and situation up to this point? If not, The Great List can help. Friday's are for gratitude here at betsylife, and if you're feeling a little underwhelmed by your life, maybe its time to look a little closer. Its so important to recognize the blessings in our life, no matter how big or small, and be grateful for all of them. Let's do this!
1.  Olive loved her first REAL trip to the beach this week. I loved that she slept for the entire day after we got home. Peace is priceless, and fleeting, when you have a puppy.
2. I have been "off" since Wednesday! The shopping is done, work is done, the gifts are wrapped. It has been wonderful to be able to take long walks, read, and generally do nothing. I took a nap this week for crying out loud! I haven't napped without being hungover in ages.
3. I received a Christmas card with pictures of my nieces and nephews this week. Because of the way all the babies in our family were born this year, I missed my annual trip to Texas to visit with Elsa, Eric, Alexandra, and now baby Paul. I miss those kids terribly, and am looking forward to seeing their sweet faces in person in January. These photos, and hopefully some holiday skyping, should tide me over until then.
4. I attended my last two holiday parties this week. I feel so lucky to have genuine friendships with those who I work with. Its been wonderful to see their growth and successes over the years. I'm so proud to have been a part of their businesses, and look forward to future adventures with them!
I am overjoyed its finally Friday and the holiday weekend is here! The dog cousins are arriving today, and I'm going to begin my holiday cooking/baking bonanza starting with my favorite holiday food tradition, coconut cream cake . This cake takes 4 days to make so I need to get started now. Also on the food agenda: Pumpkin coconut bread, soft pretzels, brussels sprout salad, beef tenderloin, and fortune cookies…..don't ask. I'll probably take a few days off from blogging next week to spend some quality time with my gifts. HA! I mean quality time with The Hubs. I hope you all have a very merry and bright holiday! Be sure to take a minute and count your blessings….and I don't mean the presents under the tree.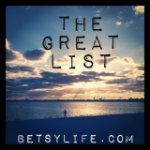 <a href="https://betsylife.com/category/the-great-list/"><img src="http://i1024.photobucket.com/albums/y301/jenpekar/Button%20pics/49b0fe2f.jpg"/>