In between large holiday gatherings, keep your sanity by simplifying your meals. 
I planned, I shopped I prepped and I hosted my butt off last week for Thanksgiving. I am totally wiped out. I don't feel like eating ever again, not only because I'm stuffed full of enough carbs to last me a lifetime, but I also used up every ounce of brain capacity I have when it comes to meal planning.
My Thanksgiving meal was probably the best I've every made but it was a doozy. Can I just nap until Christmas?

Thankfully, my friends at Sun Basket are always there to lend a helping hand. Bless their hearts. Did I mention how thankful I am for them?
Being someone who loves to cook, I never thought I'd be on the meal delivery box bandwagon, but let me tell you, when life is hectic these deliveries are a godsend.
Sure I could survive on microwave popcorn, and cans of tuna, but why should I when Sun Basket will send me boxes of awesome, organic, non-GMO meals that are simple to prepare even for someone as burnt out from cooking as me?
Shrimp Pad Thai sounds waaaaaay better to me than the crumbs at the end of a box of crackers. What about Butternut Squash Risotto with Meyer lemon? So much more nutrient dense then cheese rolled in a tortilla.
My personal favorite from this box was Salmon with Roasted New Potatoes and Green Beans.
Sun Basket, you may have saved my life. Without these complete meals, I don't think I would have even had the strength to do my Christmas shopping. I would still be in a puddle of sweatpants and week old pumpkin pie scraps laying on my couch.
Friends and family, you owe your gifts to Sun Basket.
Speaking of gifts, if you know someone who is stressed, short on time, or just doesn't like to shop and prep, give the gift of Sun Basket this holiday season. They'll thank you all year long.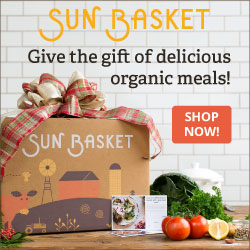 More easy ways to simplify the holidays

Make big batch holiday cocktails like this red wine punch  
Simple Skewered Appetizers
No bake desserts save space in your oven